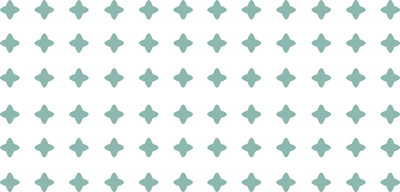 Through Guru one will achieve/conquer the target.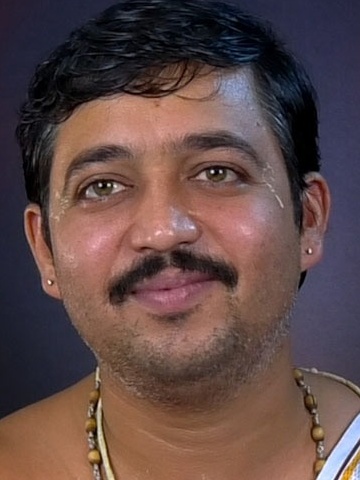 Dr. Vittobacharya
Acharyaru Completed his Sudha Adhyayana under Yathikula Chakravarti Sri Sri VishweshaThirtharu For 13 Years. Acharyaru recognised with Doctorate by Tirupathi Rashtriya Samskrutha Vidyapeetha for Specialization in NayayaShastra. Currently Acharyaru working in PoornaPragna Vidyapeetha. Acharyaru is also Serving as Mathadikari at Sri Vyasaraja Matha as per guidence of Sri Sri Vidyashreesha Theeratharu and conducting various Dharmika activities and giving best efforts to uplift Glory of Sri Vyasaraja Matha.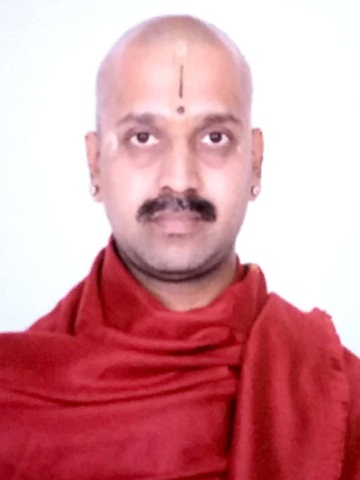 Kadagathur Purushothama Achar
Vid. Purushothamachar completed MA in Sanskrit at Mysore University and Acharyaru did Special Adhayana in Yukthi Mallika Grantha under Sri Sri Vishwothama Theertharu of Sode Matha. Acharyaru also did Special Adhyayana under Dwarakanath Achar Dani and T. Krishnamoorthachar (Mulbagal). Acharyaru is currently Teaching Nithyanusthana Paatha to Chandrika Gurukula Students from one year.
Vidwan Kambaluru VijayaVittala Acharyaru
Acharyaru comes from prestigious family of Kambaluru Ramachandra Theertharu. Acharyaru is second son of Sri Kambaluru Venkatesha Achar (Present Mathadisharu Of Madhava Theertha Samsthana) and srimati Padmavati. His Initial Education of Vedantha and Shastras was completed under guidance of his father. Acharyaru completed Sudha Managala under Sri Sri Vidyaesha Theertharu Bhandarkere Matha. Also from past 15 years Acharyaru Conducting Vyasarajara Jayanti in grand manner. Acharyaru started Vishwamanya VyasaParishad and Teaching Shastra Paathas to many Sadbhakhtas.
Vidushi Saraswati Sripathi
Smt. Saraswathy Sripathy is the chief editor of magazine Tamil TATVA VADHA. She has completed her diploma in Civil Engineering (passed with distinction) Won many prizes and cups in speech competition, Inter-college debates, Chairman of college. She is conducting Tathva Gnana Sabha, Saptha Praakaara Pradhakshina for the past 25 years, Entered "Sri Daasa Sahithya Project" during Appannacharya period. Formed so many Bajana Mandalis throughout Tamilnadu and acted as chief Co-ordinator of Tamilnadu, She conducts Summer Sibira Classes and Mahila Ladies Classes all over Tamilnadu. She takes online Hari Kathamrutha Saara, Lakshmi Sobana and Chaturdashi Paata. She has many awards under her belt. Just to name a few. "Kaavya Choodamani" by Cuddalore Madhwa Sanga, "Daasa Saahithya Seva Rathna" by K.K. Nagar Madhwa Sanga, "Hari Daasa Chandrika" by Palimaru Swamiji, "Suthatva Bharathi" by Srirangam Bajana Mandali, "Sujaya Sree" by Sri Sri Sushameendhra Theertharu, Sri Raghavendra Swamy Mutt, Manthralayam, Hari Dasa Barathi by Karnataka Dasa Sahithya, Sree Dharma Prakasika by A. B. M. M. Karur, Sri. Krishnadasa manya by Paryaya Palimaru Matha
Dr. Ananda Theerthacharya Malagi
Studied under the auspicious presence of Sri Vishvesha theertha swamigalu. Completed shastra pata and sudhamangala under Srigalu august presence. MA in Nyaya and Vedanta subjects. Phd from National Sanskrit Vidyapeeta, Tirupathi. Currently Adhyapak at Poornaprajna Vidyapeeta, Bangalore. Residing in Bangalore and busy with Adhyana and Adhyapana.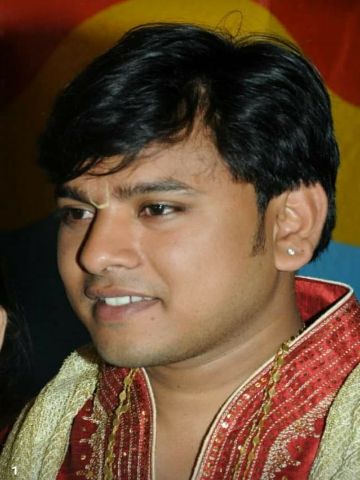 Dr. Satyamurthy Acharya G K
Phd from National Samskrut University New Delhi. Completed M.A in Vedamta Studies, M.A. in Nyaya shastra, M.A. in Alankara shastra. He Was fortunate to study 13 years under the tutelage of One of the greatest Saints, most memorable Reverend parama pujya Sri VISHVESHA THEERTHA sripadangalavaru and completed Sudha Mangala. Currently serving as Director (operations) at Karnataka Sikshana Seva Samithi, Science, Commerce and Arts Pre-University college, Hubli.
Muralidhara Katti
completed Sudha Mangala under the auspicious precense of Yatikula chakravarthy Sri SriVishveshwara theertha padaganl in 2013. Obtained vidwat in Alankara from Karnataka Sanskrit University. Working as Teacher at Poorna Pramathi School. Conducts shishu shikshana at poornapragna vidyapeetha.
Vid. Maruthacharya
Studied in Sri Puttige Vidyapeetha Udupi. completed Sudha Mangala under the auspicious presence of Sri Sugunendra Thirtaru. Teacher by profession.